Optical sensor or cameras
A case in point is the average sensor pad you can buy these days in the $300 to $3000 price range.
The problem with all optical sensor pad club track systems is threefold:
1. The ball path accuracy is dependent on the number of sensors used in the system, the sensor spacing and the distance the two rows are apart.
Seldom does a sensor club track pad achieve better than 1.5 degree resolution and most not even 2 degrees.
Cameras, on the other hand, feature millions of sensors (pixels) and can thus attain a club path accuracy to within one hundredths of a degree.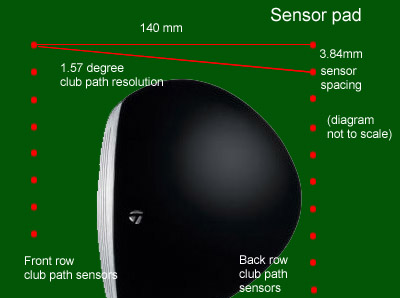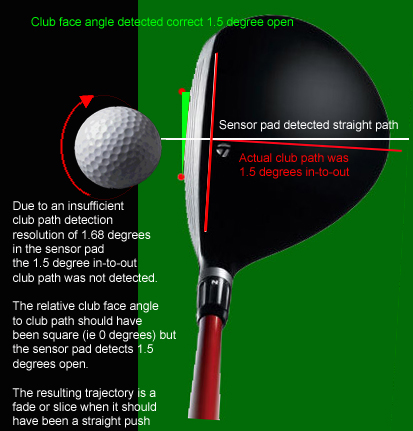 Golf simulator sensor pads detect club path with two rows of sensors.
The usual minimum sensor spacing is 3.84 mm (this being a standard circuit board component hole pitch) which is difficult to improve on due to the physical size of the sensors (usually >3mm).
The club path resolution is then dependent on the row spacing. The further the rows are apart, the better the resolution but if set too far apart the swing arc will distort the measurement.
With a sensor pad that has poor club path resolution (as most do) even 1.5 degree club path won't be detected.
2. Club face angle detection at impact to the ball. The inherent problem is that the club face is often curved and not straight and optical sensors just can't see that.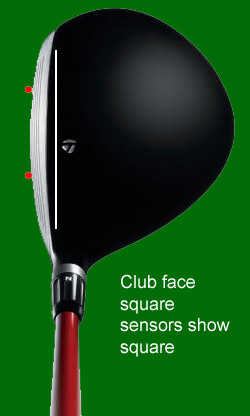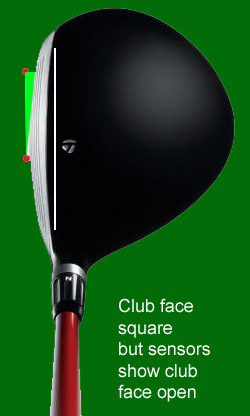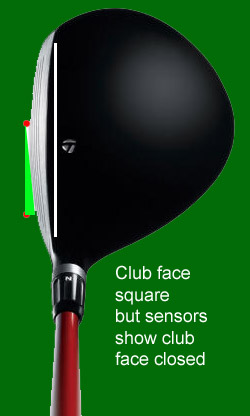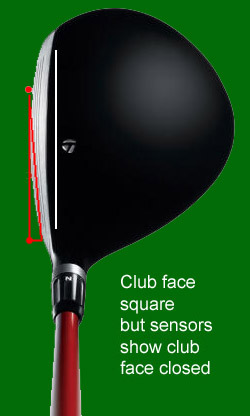 The above images show what typically occurs. If the player does not strike the ball dead on the sweet spot then the optical sensors will read a false club face angle.
Even though the club face is square, optical sensors can - and often do - read open or closed.
This can cause you to work on an apparent swing fault that is probably not even there.
The image on the right shows that increasing the sensor spacing doesn't help either.
If a sensor pad features multiple club face sensors then this will help but then the true club path would have to be known in order to determine the club face angle.
And as measuring club path with optical sensor pads is prone to large errors this method will also not be accurate.
As ball side spin (spin axis tilt) is a product of club face angle and club path - ie relative face angle - any errors in either of these measurements will lead to false ball trajectory calculations.
Because it's the relative club face angle that determines how the ball will curve, accurate club path measurement is just as important as face angle measurement accuracy.
One without the other can cause the ball flight to fade instead of draw, slice instead of fade, hook instead of draw etc. etc...
3. Incorrect club face angle readings when club passes over sensors high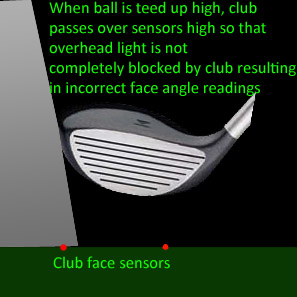 Many players swing with the club head tilted back when teeing off. This, when teeing off with a high tee, will allow light to pass the edge of the club and get down onto the optical sensors which results in incorrect readings.
Especially club face angles can be way off in this scenario. For the optical sensors to respond correctly a dark sharply defined club shadow is required which is usually the case when the club passes low over them.
If - on the other hand - the club head is too high or tilted back the club shadow edges will be unsharp and fuzzy which will result in either the sensors not registering at all or at the wrong time.
Inherent problem with Reflex optical sensor pads.
In addition to the problems inherent in shadow based club tracking pads (ie those requiring an overhead lamp)
reflex optical sensor pads (ie those that feature built-in IR LEDs that measure the reflection off the underside of the club) are subject to further inaccuracies
due to the fact that the underside of a club is also curved and thus the reflection strength is not uniform throughout the width of the club-head.
Optical sensors and their associated latch logic switch at certain and constant light level thresholds so if the reflection strength is not uniform then the switching times of the sensors will vary.
While this may not be important for detecting ball path, it is imperative for measuring club face angle and club speed as the associated timers would be set at incorrect times which will lead to false readings.
In addition, the under side of the club would need to be quite reflective in order for a reflex pad to work at all. With woods and drivers this is often not the case.
The reflective tape nightmare
A part solution to these problems is to stick a straight length of reflective tape to the underside of the club.
It's only a part solution because many modern woods and drivers have highly reflective chrome areas under the club which will reflect the light back to the sensors
before the intended strip so you'd have to actually mask off these chrome areas with even more tape!
And then, after you've carefully and precisely taped up most of the underside of all your clubs it all starts to move and come off when the club makes contact with the grass fibers of the pad. (assuming the pad actually has a grass fiber top of course).
And to top that off you'd have to remove the tape again when playing golf in the real world and stick them all on again to play the simulator.
Optical sensor switching tolerances
Additionally the optical sensors themselves have varying switching levels due to manufacturing and element tolerances so when two or more optical sensors are used to calculate timed parameters
such as club face angle and club speed, the sensors have to be matched or calibrated in order to produce accurate results.
As this is very time consuming process it is unlikely that any manufacturers of sensor pads would make the effort to do this.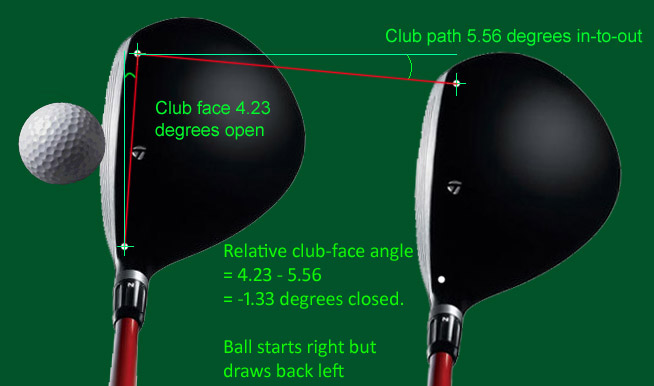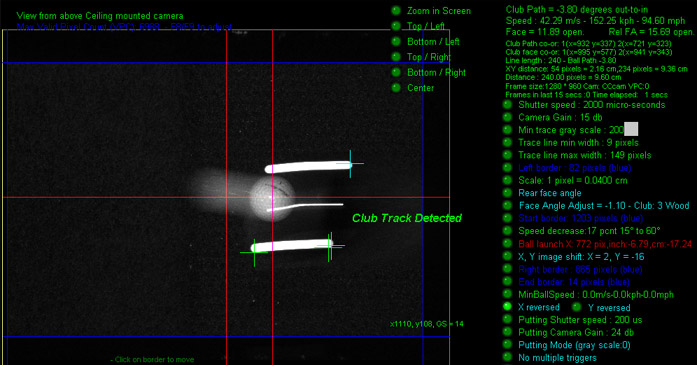 The above image is from our Ccam club tracking camera. Notice how the ball path deviates from the club path.
The club path in this shot was 3.8 degrees out to in while club face angle was 11.89 open. The relative to path face and is thus 15.69 degrees open.
Up until recently, it was commonly thought that the ball path would follow the club path.
The above image however shows that the ball path is more following the face angle. i.e. it's going right and not left as the club path is.
In addition, the ball impact position on the curved club face will also influence the ball's path.
This shot shows that the impact position was more towards the toe of the club so the effective club face angle would be even more open.
Most (if not all) club tracking optical sensor pads on the market today will either use the club path, the club face ange or some combination of the two to determine the ball path.
None of which will be particularly accurate.
The bottom line is that if you want true and very accurate ball and club data detection then the only way is to use cameras.
-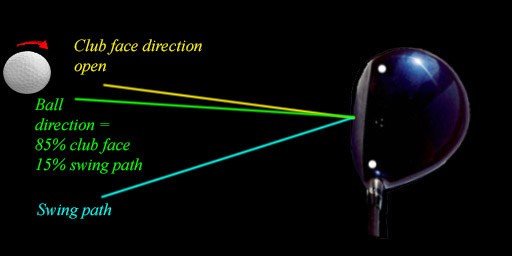 Measuring ball speed with Optical sensors
In order to measure ball speed you need to know the distance the ball traveled within a known time frame.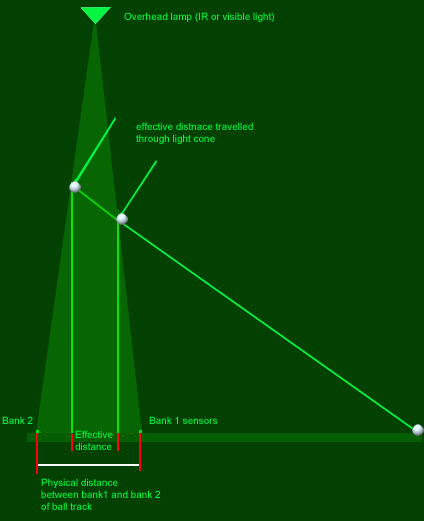 As opposed to measuring club head speed - which is traveling relatively flat over the sensor pad sensors - a ball is usually traveling at a specific launch angle (unless rolling).
Without knowing the launch angle it is not then possible to measure or calculate the distance the ball has traveled so any ball speed calculations will be inaccurate.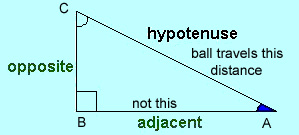 The distance the ball traveled is along the hypotenuse but optical sensors only measure distance along the the adjacent.
When considering a system from a certain manufacturer that claims to measure ball speed with optical sensors but not vertical launch angle then
you should be aware that this claim is flawed and probably nothing more than marketing hype.
Photographic evidence
Other manufacturers of optical sensor club and ball tracking systems make all sorts of wonderful claims about the accuracy of their systems
but at the end of the day you - the potential buyer - just has to take their word for it.
The purchaser of these systems has no way of actually confirming their claims so you are basically left blind.
Camera systems - on the other hand - show actual photographic evidence of the manufacturer's claims.
A camera doesn't lie.
Optical sensor pad reliability.
"Optical sensors are very reliable and will last a life time"
Unfortunately a prerequisite for the above statement to be more than just a hopeful wish is that they are not subject to massive shock vibrations caused by 4000 lb force club head impacts.
Which, in the case of a golf simulator sensor pad, is routine rather than the exception.
While sensor pads have relatively long life spans for home users, all electronic systems that are routinely subject to these types of forces will eventually fail.
The reasons for this is usually one of the following:
1. Over time, hair line cracks will start to appear in the solder joints which then grow in size until there is intermittent or no electrical contact.
2. Elements in the chips and sensors themselves start to break down
3. Static electricity - caused by the club sweeping through synthetic grass fibers - can burn-out and blow sensitive ICs and sensors.
4. Heat and humidity - and thus eventually mold - can build up in the pad causing short circuits.
These faults usually rear their heads outside of the manufacturer's warranty period (usually 6 months) so we advise that you check with the product manufacturer for the price of repairs and/or replacement parts.
If it's just a $300 pad then you can just buy a new one. That's usually not an option with a $3000 pad though.
Once again, if you want true reliability then the only way is to use cameras.
Pros and Cons of fixed camera systems compared to Launch monitors
Thinking of using a launch monitor as golf simulator instead of fixed camera systems ?
Here is a short list of pros and cons of both systems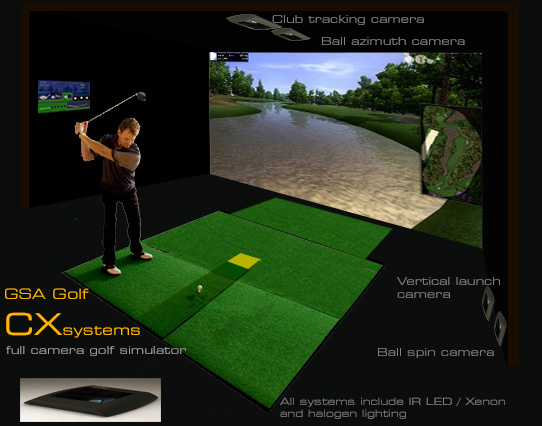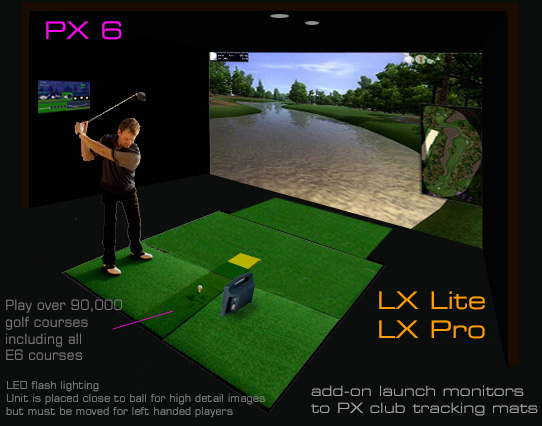 LX Launch monitor advantages
1. Easy installation
2. Portable
3. Can be used in or out doors
Launch monitor disadvantages
1. Ball must always be played from the same spot. i.e. no ability to use other playing surfaces like fairway, rough, sand and greens.
2. Cannot be used with both left and right handed players in the same flight. i.e. the unit must be moved / turned around for left handed players.
CX camera system advantages
1. Ball can be played from various simulated surfaces like fairway, rough, sand and greens. i.e. You are not confined to play the ball always from the same spot
2. Can be used for both left and righted players in the same flight. i.e. no need to move the unit around
3. Completely modular - start with just 1 camera and add more as and when requirement or budget allows.
4. Very affordable. No other camera based golf simulator on the market comes even close. Starting price is just $1,499
5. Tracks all important club and ball data including ball launch angle, azimuth, spin, spin axis and speed. Club tracking data includes club speed, face angle at impact to ball, club path.
CX camera system disadvantages
1. Installation requires mounting, running cables and setting up the camera's FOV
2. Not Portable
3. Can only be used indoors
CX / LX combinations
GSA Golf CX and LX systems can be combined to provide ideal setups. e.g our CX4 LX system.
All systems are compatible and any combination of CX and LX system will function.

Pros and Cons of optical systems compared to camera systems
PX optical system advantages
1. Compared to camera systems, optical sensor systems are a breeze to setup
Other than installing the software and mounting an overhead lamp, optical sensor systems are Plug'n,Play
2. Optical sensor systems don't require the room or enclosure to be dark
3. Optical sensor systems don't require flooring to be non reflective
4. Optical sensor systems don't require any tracking dots to be applied the club
PX optical system disadvantages
1. Optical sensor systems are not quite as accurate as camera systems
2. Optical sensor systems can't measure ball launch angle
3. Optical sensor systems require that the player always play the ball from the same spot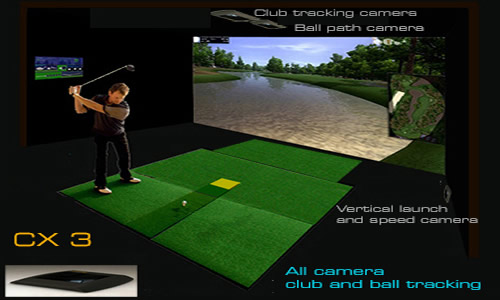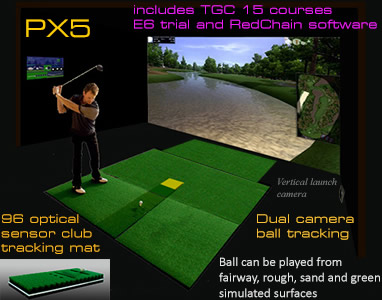 Combining camera and optical sensor systems
Most of the above disadvantages can be overcome by combing both camera and optical sensor systems
The PX5 for example uses optical sensors to capture club data so that there is no requirement to apply any tracking dots to the club
and the cameras capture ball data (ball speed, path and launch angle) and allow the player to hit from other surfaces like fairway, rough, sand and greens for putting.